Innovation & development
KBB Turbo stands for quality "Made in Germany", innovation and comprehensive expertise with over 70 years of experience in the development and production of turbochargers.
Thanks to a strong culture of innovation and with continuous further developments, we offer products that are characterized by high efficiency and are based on decades of expertise and state-of-the-art technology.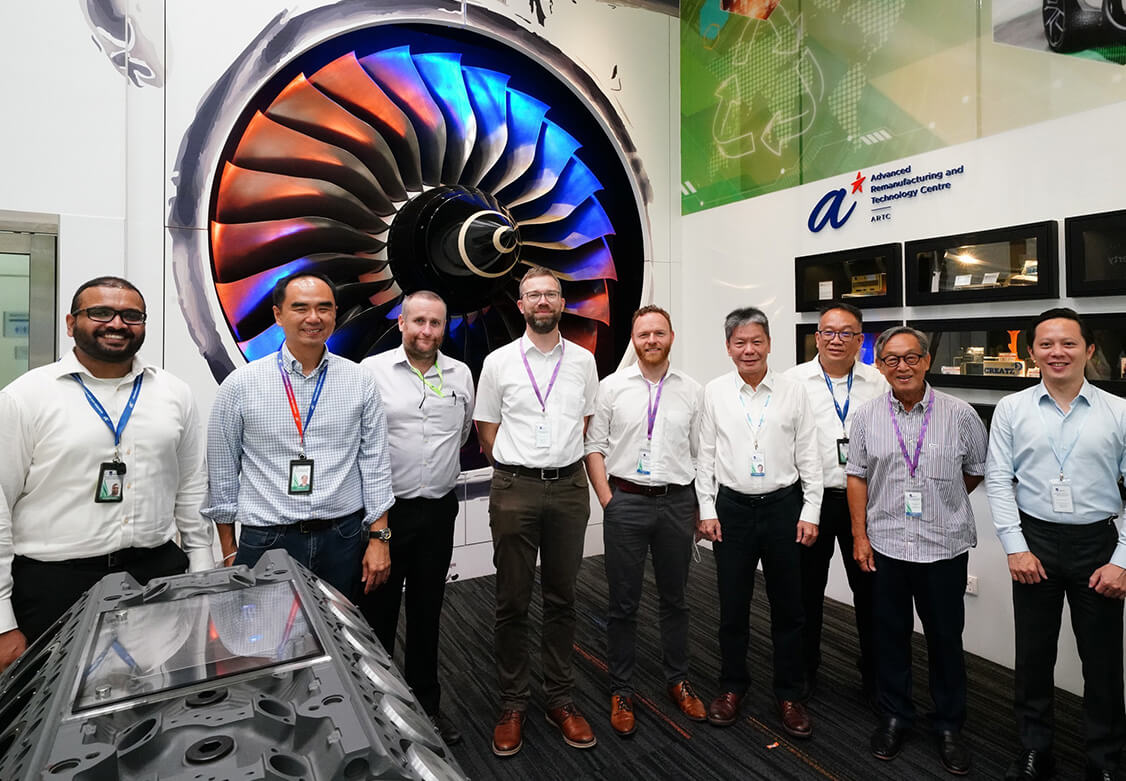 Condition-based maintenance (CBM)
Modern large engines now record a wide range of measured variables from exhaust-gas turbochargers. The potential offered by this data is not usually exploited to the full. KBB develops systems that allow the intelligent use of this data, thus paving the way for condition-based maintenance. In the long term, this allows operating costs to be reduced and otherwise unforeseeable damage to be detected in due time. These systems offer a particular advantage and an additional level of safety for applications with a high proportion of partial loads or highly variable load profiles.
Our development priorities:
Monitoring modules for OEM and upgrades for operators
Determining characteristic values based on thermodynamic measured variables and vibration data
Estimating the remaining service life depending on real loads
Detecting irregular states and optimising the turbocharger operation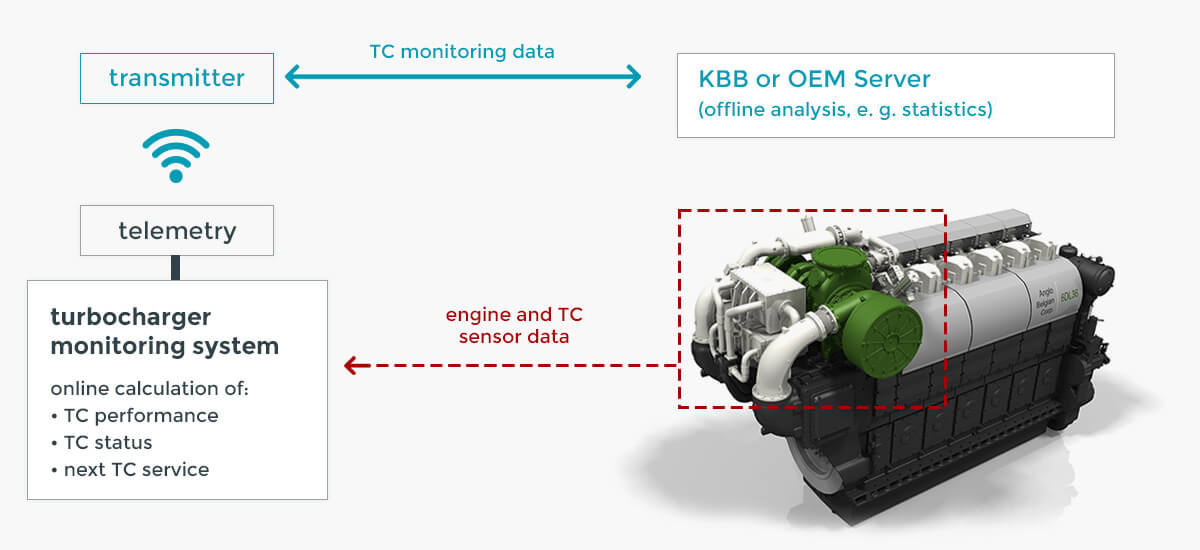 Additive manufacturing (AM)
The additive manufacturing of TC components offers a number of new or additional possibilities compared to conventional production methods over an exhaust-gas turbocharger's entire life cycle.
KBB associates AM not only with the accelerated provision of prototypes and spare parts in the aftermarket, but also with the potential of new material properties and new degrees of freedom in design.
International research cooperations
In order to expand our development know-how, and to support ongoing research and development work worldwide in the areas of thermodynamics, additive manufacturing, system development and digitalization, among others, we are involved in a large number of projects and committees. These also include our active participation in research projects within the VDMA, CIMAC, FVV as well as international universities and research institutions.
Kompressorenbau Bannewitz GmbH – Our history
Our company's history stretches back to the 1950s.
70 Jahre Turbolader aus Bannewitz
KBB feiert diese Jahr sein 70. "Turbolader"-Jubiläum. In der Gläsernen Manufaktur in Dresden haben wir mit zahlreichen Mitarbeitern und Partnern einen wundervollen Abend mit Abendprogramm verbracht.
Optimized spare parts kits for the ST27 series
Environment protection and an efficient use of resources facing international attention. KBB also contributes:
In the course of continuous improvement, the compilation of all spare parts kits for the ST27 series has been optimized. The content now focuses more on the actual needs during field maintenance and also allows the reuse of certain parts. Our customers benefit in having less waste and reduced costs.
Would you like to know more? Please contact our spare parts sales.
A story of success gets improved - the ST27-EP-Series has its production ramp up
With IMO Tier 3 and increasing demands on fuel efficiency, the ST27-EP-Series (Enhanced Performance) has been developed and successfully put into service. This latest generation of single-stage high pressure turbocharging is an update of the proven ST27-Series.
It now offers pressure ratios of 6:1 and higher air flows. Due to the complete conversion to clamping flanges (except ST7-EP) as well as spare parts kits, which are based on interfaces, measures have been implemented which increase the ease of maintenance.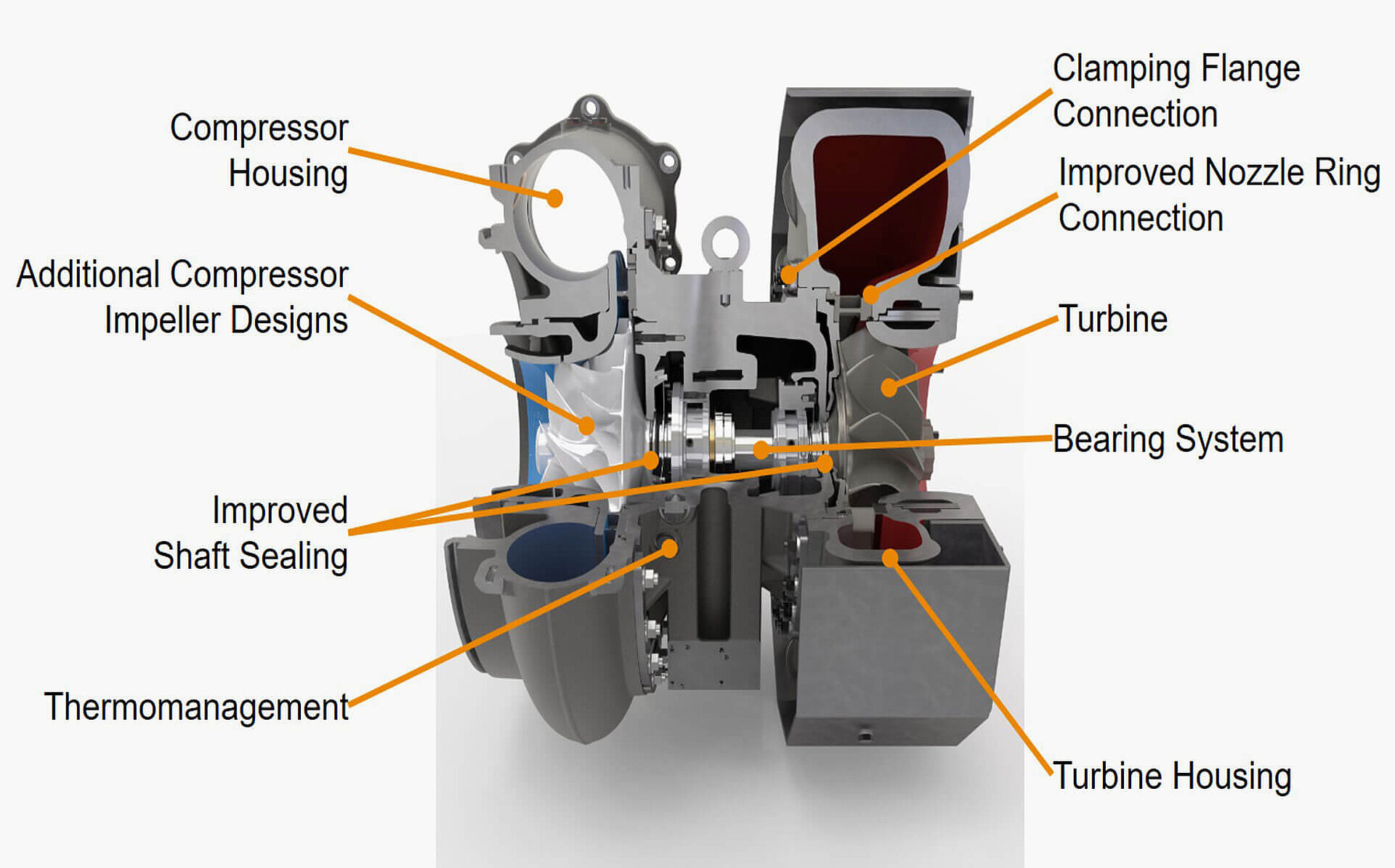 KBB GmbH was awarded the "Supplier Quality Excellence Process - Certification Gold Level"
Caterpillar assesses the quality of their suppliers' deliveries at regular intervals. In November 2016, KBB GmbH was awarded the "Supplier Quality Excellence Process - Certification Gold Level" certificate for its due date reliability and product quality.
KBB GmbH was honoured with the "Supplier Award for outstanding project performance"
Yanmar, the Japanese engine manufacturer, honoured KBB GmbH with the "Supplier Award for outstanding project performance" in November 2015.
KBB was given this award for its punctual deliveries and high product quality.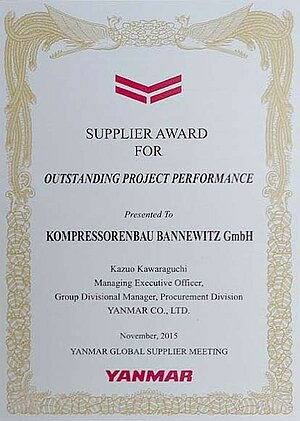 A prosperous future through innovation
K2B – Two-stage turbocharging in the 8th generation of exhaust-gas turbochargers
Diesel engines will continue to change to meet the requirements of increased environmental protection. The future will be determined by a highly efficient and resource-saving technology that is particularly low in emissions. Thanks to high charging pressures and high efficiency, our K2B 2-stage turbocharging system contributes to securing the future of diesel engine technology.
If you want to join us in shaping the future, do not hesitate to send us your application!
Quality and development
Commissioning of the new turbocharger test rig with the latest measurement and control technology. Highly efficient natural gas burners ensure a resource-saving, low emission test operation.
The success story continues with the ST27 – the 7th generation of turbochargers
In the 2000s, development requirements for marine diesel engines are marked in particular by environmental and emission regulations which, for the first time, have to be implemented almost worldwide. The development of the ST series allows us to provide more charging pressure for our customers so that they can meet the requirements.
KBB is taken over by the OGEPAR group
Targeted investment and product development contribute to a shift in the company's focus to new applications and customers.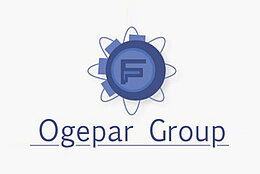 New products for new markets – HPR – the 6th generation of turbochargers
The development of the HPR series as a compact, high-performance turbocharger is a decisive milestone for our company. Thanks to the HPR turbochargers we can demonstrate our products' excellent performance and quality and win new customers worldwide. More than 9,000 units are in use to date.
Privatisation and takeover by Holset (UK)
The privatisation and takeover by Holset (UK) leads to a stabilisation of the business. The company's structure and size are adjusted to the new requirements.
Further development of the R series to become the 5th generation of turbochargers
New world, new chances…
Foundation of Kompressorenbau Bannewitz GmbH and reorientation of the company towards an open world market.
The great change...
The political turnaround in Europe and the reunification of Germany leads to the collapse of the former sales market in the Eastern European countries and the former Soviet Union.
1,700 exhaust-gas turbochargers a year
The turbocharger production reaches a figure of 1,700 units a year. At this time, KBB has a workforce of around 700.
4th generation of turbochargers
Start of the production of the 4th generation of turbochargers in the M series. This type of turbocharger is still being produced in series to date.
KBB becomes a part of the SKL group
Start of the production of the H series as the 2nd generation of turbochargers