K2S exchange programme
Knowledge 2 Swap
The Knowledge 2 Swap (K2S) programme opens the door into a new dimension of service: the fast availability of cartridges or even complete turbochargers that can be delivered by KBB in exchange - tailored to customers' wishes. Owners and operators of engines with KBB turbochargers can minimise the effects of unplanned breakdowns and very reliably safeguard any maintenance work.
How does K2S work?
The K2S units are delivered in exchange for units previously installed on the engine and can easily be installed by the onboard crew.
The use of cartridges or complete turbochargers is a real plug-and-play solution. Ships' components no longer have to be taken ashore for cleaning and balancing.
Do you want to safeguard your complete fleet? Are you interested in contracts with a set term and defined conditions? Do you want to avoid any nasty surprises during overhauls?
If so, then K2S is a genuine alternative to classic maintenance for you!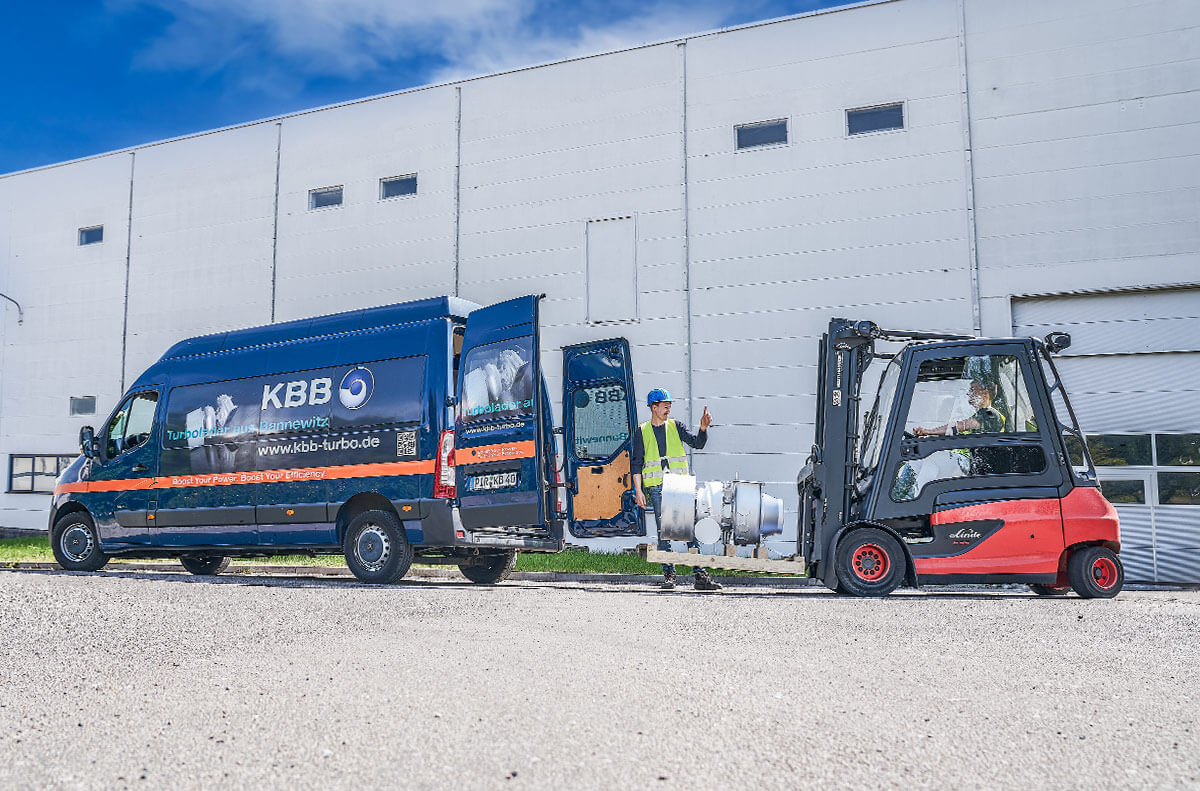 Advantages of the K2S exchange programme
High availability (after initial preparatory period)
Risk mitigation and fixed costs
Faster delivery and installation times
Fast re-starting
Short downtimes
Sustainable supply chains
Reduced service and whole life costs
High flexibility
The latest components are always included when exchanging units. This helps to keep KBB turbocharger users up to date with the latest technology designed to improve safety, reliability and performance.
What are the requirements and scope of K2S?
The K2S service is available for all turbochargers from our HPR series of turbochargers (single-stage, high-pressure turbochargers for medium-speed engines with an output of 500 to 3,000 kW), the ST27 including the ST27-EP series (engines up to 6,000 kW), as well as the K2B series (two-stage turbocharging).
These series are typically used on ships or plants with Hyundai HiMSEN, Jenbacher, Wärtsilä, Yanmar and MaK engines.
The exchange unit is defined by your wishes and can normally be assigned to one of the following three configurations:
The cartridge is the core component of the turbocharger and includes the bearing casing, rotor and all oil-bearing parts, such as the bearing. The turbine nozzle ring and diffuser (compressor diffuser) are not typically included but can be on request.
An extended cartridge can be fitted with a complete compressor-side or turbine-side assembly. This reduces not only the necessity of adjusting or checking the gaps but also the risk of mechanical damage on account of the partly closed sides.
It goes without saying that complete turbochargers can also be provided.
The exchange units contain new or overhauled parts that are protected by a two-year warranty. In principle, the same quality criteria are used as for new parts. In case of doubt or if the design is outdated, KBB will take care of the replacement.
Helping the environment with K2S
The use of exchange cartridges that may include reconditioned and overhauled components also helps to reduce the environmental impact of your business by minimising the unnecessary manufacturing of new parts.
By making best use of its pool of parts, KBB's Knowledge 2 Swap programme offers a service solution that follows the ideas of circular and sharing economies, based on the principle of "waste less, lose less." As such, it can be a valuable addition to your company's environmental, social and governance agenda.
Focusing on critical resources is a must not only for the environment. In order to minimise downtimes, due either to mechanical failure or planned service overhauls, ship operators need to know their options regarding repairs and spare parts.
With KBB, they gain a partner that assumes responsibility for investigating the value chain and developing business cases to optimise their operations.