Turbocharger repairs & maintenance
KBB spare parts and tool kits
A failure of your turbocharger due to low-quality, incorrect or second-hand spare parts can cost you dearly.
So play safe and have your turbocharger serviced and repaired professionally by trained experts. KBB works together with more than 60 service partners worldwide to offer you the best possible after-sales service.
Quality parts from the original manufacturer
So as to guarantee the safe and efficient operation of your turbocharger over its entire service life, you should only ever use original spare parts.
Safety
The safety of your crew and employees takes top priority. We can offer the highest level of safety if you trust in our spare parts.
Efficiency
Our high-quality original parts let you get the highest efficiency out of your exhaust-gas turbocharger, thus saving you money and sparing your nerves.
High accuracy of fit
Perfectly fitting parts enable easy maintenance. Which is why we can guarantee very short downtimes for your exhaust-gas turbocharger with our original spare parts.
Turbochargers from KBB are designed to withstand even extreme loads in operation. Regular maintenance is essential to keep your turbocharger running smoothly in the long run and to avoid breakdowns and unnecessary repairs.
KBB has been developing turbochargers for over 70 years and uses the data it has collected to optimally meet its customers' needs in terms of costs, quality and reliability.
Bespoke after-sales services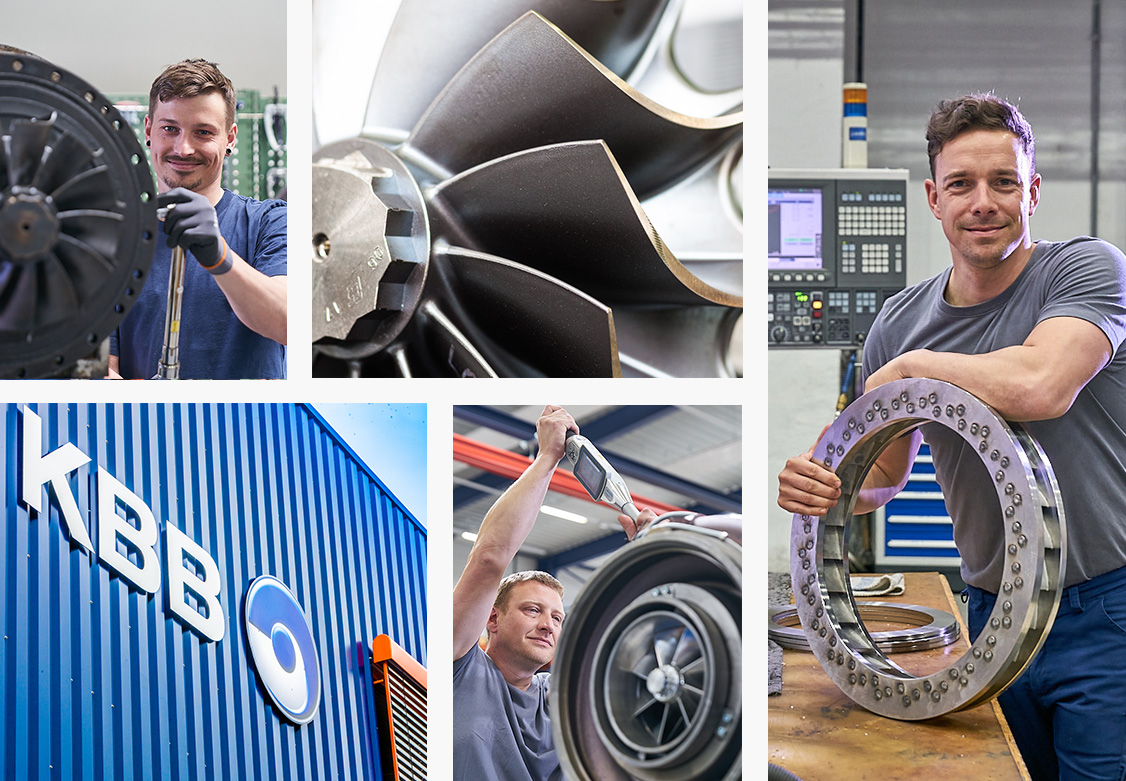 We help you choose the right products for maintenance of your KBB exhaust-gas turbocharger.
Are you the owner of, or have you been commissioned by them to operate our turbocharger? Simply send us the details from the nameplate as well as the required after-sales service or spare parts per e-mail to
spares@kbb-turbo.com. 

Please note that we reserve the right not to process unqualified inquiries as well as inquiries from third parties such as distributors.
KBB partner workshops can request a spare part online:
Resource efficiency through remanufacturing
KBB is well aware of its responsibility towards the environment, which is why we encourage the reuse of core components.
Remanufacturing also allows updates to meet current design standards. The components are reworked according to original or current specifications, as required.
KBB breathes new life into second-hand components.
We believe it's worth the effort: because our remanufacturing programme spares resources and thus reduces the load on the environment, entirely in accordance with our corporate policy.
The right tool for every service
Depending on the maintenance schedule for your exhaust-gas turbocharger, we provide sets of tools that perfectly fit the respective task. Our handy toolboxes let you transport the tools conveniently from place to place wherever you need them.
We put together a set of tools to meet the needs of our end users and allow them to carry out important servicing and maintenance work directly on site. We also offer special sets of tools for service workshops so that they can perform detailed and extensive inspections.
Do you have any questions about repairs, maintenance or our spare parts?
If so, contact us by e-mail at spares@kbb-turbo.com or via our contact form to order the right tools for your turbocharger.